Shopping Cart
Your Cart is Empty
There was an error with PayPal
Click here to try again
Thank you for your business!
You should be receiving an order confirmation from Paypal shortly.
Exit Shopping Cart
No One Should Travel This Journey Alone!
Early Detection Is The Best Protection
There's A Family That Needs Our Help! Consider Donating Today!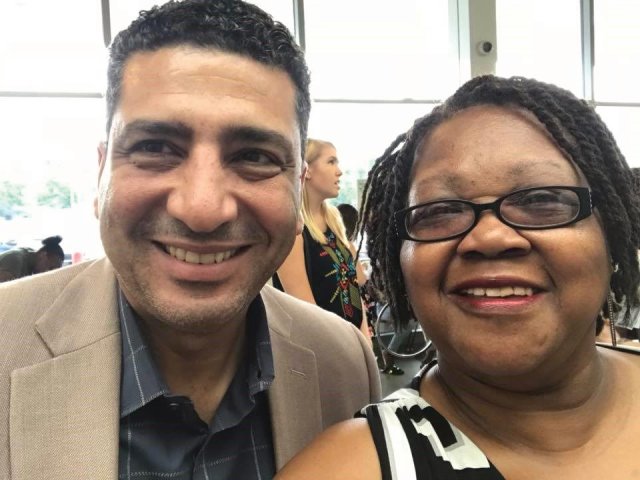 Sooooooooo Yesterday I had something phenomenal to happen to me.
Has someone ever done something for you and you wanted to share your progress or process with the but you had no idea where they were?Some of you know my testimony. When I was diagnosed the 2nd time with Breast Cancer I was given a gift by one of the Doctors at St Francis that changed my life.The story: St Francis Medical Center had a prayer room that anyone could use. There were a group of Doctors that are Muslim that would pray at least 3 times a day while working their shift.My office was located next to the prayer room. I noticed they were carrying their prayer rugs to the room each time. So one day I stopped one of the Doctors and I said, "if you like I have a storage area I'm not using. You can store your prayer rugs there so you don't have to go to your cars to retrieve them and I will ensure no one touches them." He said "you would do that?" I said "sure why not?"So I emptied a box that had reams of paper in it, gave it to him and they used it to store their prayer rugs." I became close to these doctors and often they would said they prayed for me.2007 I was diagnosed again with Breast Cancer. I share it with the Doctors. One Doctor in particular asked me if I was familiar with Abraham in the Bible and his Son Ismael? I said of course I am, so we began to talk and share our faith. It was awesome!!!
No debating just sharing.So he asked me if I knew about "Abraham's Well?" I said yes! It is the well that saved the life of Hagar and her son. He said "yes." He told me he was going on a pilgrimage and a part of it was to visit that well. He said it was still active, over 2000 years, and that he was bringing some water back from Abraham well because they believe it to be Blessed by God.He asked if he could bring me some to drink prior to my surgery. I said "Absolutely!" God saved Hagar and Ismael life with the water from this well, God will save my life also.He brought back the water, I drank it for 7 days as instructed.! I also asked my Bishop to baptize me before the surgery and I took communion. This Girl was not playing!!!!! After that I left St Francis, they eliminated my position, another 
Story lolololol but I was blessed to go work at the Breast Cancer Resource Center.So I never saw the Doctor again, I wanted to share my progress and process with him. Well Lo and Behold who did I see yesterday at Motor Vehicle?
The my Doctor friend, we hugged liked 4 times. He kept saying "God is good you look Fantastic!" I said yes and God still heals!!!!!We talked over an hour. It was great seeing him and exchanging information. Sooooooooooo I got the opportunity to Thank Him for praying for me and the water from Abraham's well.But that's not the end of the story.... a lady over heard us and asked if he had anymore water left. He said the only time he went was for me he has not been back!!! Did you hear that? He went to the well specifically for ME!!!!!One act of kindness led to my receiving this awesome gift. So then she asked if she could hug me? I said sure and while hugging me she began to cry. I asked what was wrong and she said," I have blood cancer and stage 3 liver disease." She said "you are glowing so I though if I hugged you I could get some drops of that water that's still inside of you."
My God!!!!!! I asked her if "we could pray for her and she said "yes."
Guess what y'all, A Muslim and A Christian held hands and prayed TOGETHER for her healing.
Yes!!!! Yes!!!!! I left Motor Vehicle So FULL on yesterday.
Now for the best part............here is a picture of me and my Doctor Friend!!!!!
Have a Blessed Day!!!!
What an awesome month this has been! I want to invite everyone to the climax program for Breast Cancer Awareness month Sunday October 27, 2013 at 4pm Sharp. Greater Is He Ministries 93 Spring St. Trenton, NJ 08618  you can call 609-341-9090 for more information! I am so excited about the various programs to bring awareness to this disease that affects women and men! Stay Tuned! SMOOCHES!
/